promoting and supporting responsible and sustainable aquaculture
& the alleviation of poverty by improving livelihoods
in developing countries.
AwF has been established for the specific purpose of promoting and supporting responsible and sustainable aquaculture to assist in poverty alleviation through improving rural livelihoods in developing and transition countries.
In its work, AwF draws on the experience of respected professionals from every relevant discipline.

AwF is unique in devoting all of its resources and attention to aquaculture; however, it does not seek to promote aquaculture in isolation, but as a component of integrated rural and coastal development plans, and of strategies to alleviate poverty.
 
This website is the home of the UK based Aquaculture without Frontiers (AwF).
There are a number of AwF's in existence and each organisation is independent but operating under the common banner and aims of the charities original founder and our UK charity's Patron, Mr. Michael New O.B.E.
Additional to the UK there are currently AwF's based in the USA, Australia and South America.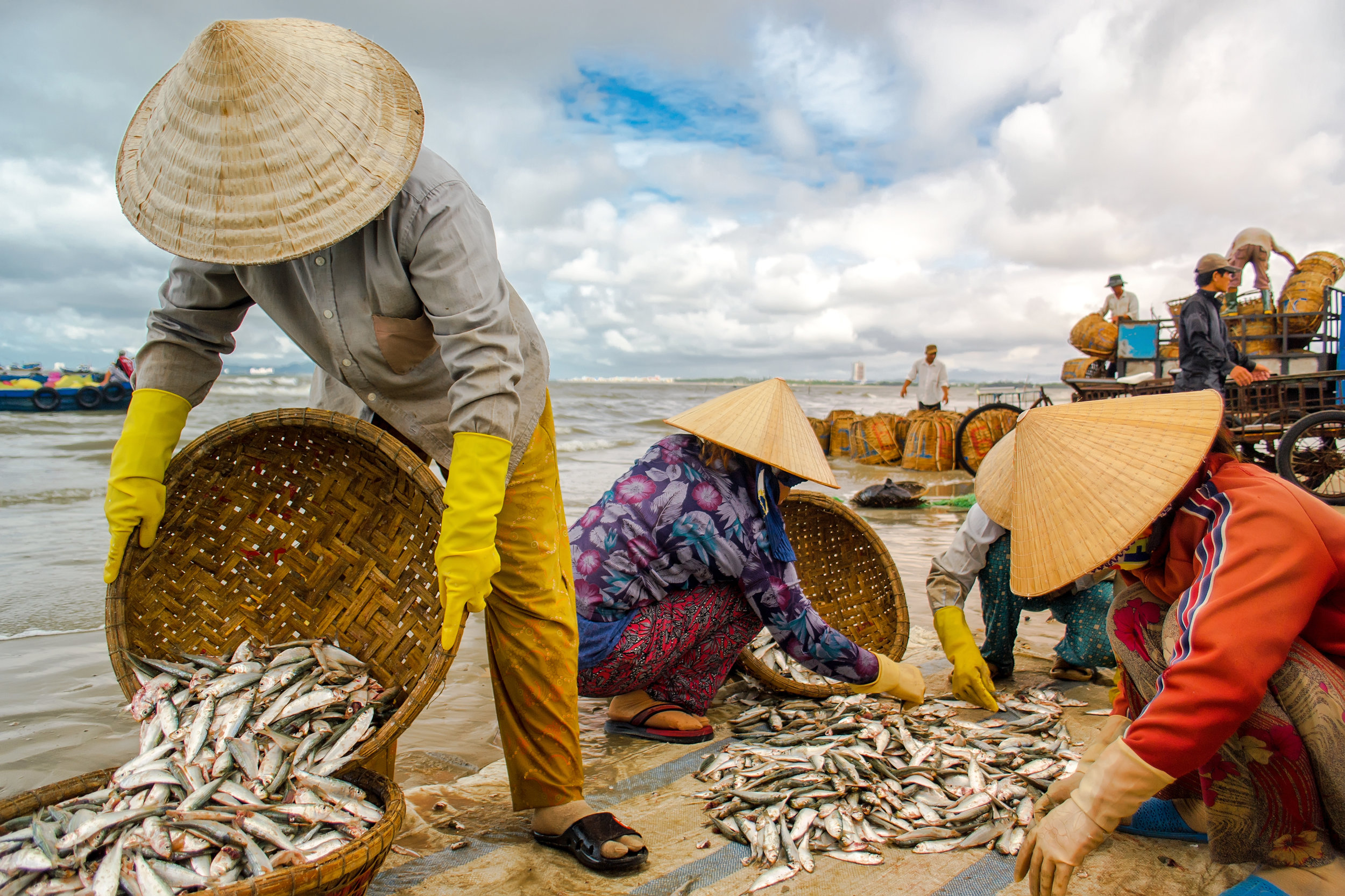 Our Projects
Aquaculture without Frontiers is now in its fourth year of operation since its re-establishment as a Charities Commission registered organisation in the UK. In its first year the AwF UK charity obtained a pledge of support for a Vietnamese feed nutritionist to travel to Thailand to attend an aqua feed training course kindly sponsored by Progressus AgriSchools.
The charity also investigated constructing a smallholder project in Nigeria with tri-partite legal documentation between the charity, feed companies and an in-country African smallholders farmers group. This project is to be a support program in the form of small micro-loans for existing farmers in the aquaculture trade in Nigeria. The plan has been presented to the Nigerian group and all liked the principle of this direct contact of AwF with the farmers themselves and they have all expressed optimism about the success of the potential program. Through these discussions news of the potential program has been disseminated and a meeting has been held at Godo blocks guest house, Badagry, Lagos State Nigeria involving a total of 62 farmers from different areas in attendance. Some of the issues discussed were; conditions for being a beneficiary of the potential program, nature of the support, duration and other related matters. Farmers were made to understand that the AwF support is not free money and it will come within a clearly defined programme. It was also explained that the support comes only in the form of direct inputs and supplies together with training, counselling, consultancy and management support. The group understand that it will be required to strongly self-police against non-genuine intentions in order to avoid damaging the whole program. i.e. if one smallholder farmer defaults the next one in line misses out. Key people in the community have been chosen in the interim to lead and pilot the affairs of the group and traditionally micro-loans have record low levels of default.
The news of this potential support has already significantly motivated farmers and some have already speculatively constructed a hatchery for the production of fish seeds in preparation for the potential program. Clearly some people will be sceptical about the success of the program given historical examples of government programs that have not prospered in the past. However the majority of the smallholder community in the region are very optimistic and certain of success because in our case there is no political element to the program and most importantly there is direct contact between the providers and the beneficiaries.
In our second year:
we have a new small project in the Caribbean to provide on-site training in fish/disease management to struggling fish farmers,

we have secured 2 x 1-year long student training positions at Taiwan Ocean University (all on-the-ground costs covered) for trainees from Africa,

we are building a project to support smallholder fish farmers at Cape Maclear, or Chembe, a town on Malawi's Nankumba Peninsula, at the southern end of Lake Malawi.
Fund raising activities include:
2019 Nigeria - We are considering funding an empowerment program for poor Nigerian farmers in Aquaculture. Updates to follow shortly …

Asia 2017 which was hosted by VIV and VNU which in turn held the first edition of 'Aquaculture Asia 2017' attracting 200 delegates to a one-day conference in Bangkok, Thailand on April 14, 2017. Five percent of all sponsorship fees were donated to the UK based AwF charity
Philippines Livestock 2017 hosted by UBM and holding the first edition of 'Aquaculture Philippines 2017' attracting over 700 delegates to a three-day conference in Manila on May 25, 2017. Five percent of all sponsorship fees were donated to the UK based AwF charity.
A half-day 'Africa Extrusion Seminar 2017' held at the CTICC prior to the World Aquaculture Conference in Cape Town South Africa on June 26, 2017. Five percent of all sponsorship fees donated to the AwF UK
Aquatic Taiwan 2017 held by UBM for the first time in Taipei Nangang Exhibition Centre from September 28-30, 2017 for the first time. Five percent of all sponsorship fees donated to the AwF UK
VietStock 2017 hosted by UBM will hold the second edition of 'Aquaculture Vietnam 2016' from October 25-27 2017 at the Can Tho International Exhibition Fair Centre (EFC). Five percent of all sponsorship fees donated to the AwF UK

VietStock 2016 which was hosted by UBM which in turn held the first edition of 'Aquaculture Vietnam 2016'. This attracted over 550 delegates to a one-day conference in Saigon in mid-October 2016. Five percent of all sponsorship fees from this event were donated to the UK based AwF charity UBM kindly undertook to support the cost of a Vietnamese feed nutritionist's travelling to Thailand to attend an aquafeed training course kindly sponsored by Progressus AgriSchools
Aquaculture without Frontiers UK has joined Charity Checkout to manage donations so that donors can select specific projects to support.
Projects:
1. 62 small community Nigerian fish farmers through micro-loans to support the purchase of fingerlings, feed and support services being offered by the AwF UK charity. Half these farmers will be supported in the first year and the second group in the following year. To support each farmer costs US$1200 with loans being repaid on the sale or movement of the fish from their farms
2. Support funding for the training of feed producers in formulating and manufacturing fish feeds by feed manufacturers operating in developing and transitional countries.
3.Funding to bring individuals to regional or international aquaculture events to learn about new technologies and visit farming operations that will assist them in their own development
4. Working with other organisations supporting fish feed and fish farming developments in developing and transitional countries

We need your support:
This is an opportunity for everyone within the aquaculture industry who recognises the importance of aquaculture in feeding a growing world population, to support fellow fish farmers in transitional countries who are having to cope with difficult conditions - financial, technological and climatic - within their country, region and/or community. Every contribution no matter how small it is important that it is spent in the right way. AwF UK has the connections to bring this about.

Administration costs explained:
The UK based AwF undertakes to spend all donations received on charitable projects without the deduction of administration costs for such items as office, travel and stay for trustees promoting the charity. These administration costs will be covered by subscription or through separate sponsorship.
Thus donors can select a specific project of the UK based AwF that you wish to donate to in complete confidence that the full amount of your donation will be spent on that chosen activity.
If you would like to make a one-off or a regular donation to support the work of the charity please go to https://aquaculturewithoutfrontiers.charitycheckout.co.uk/
Update - Project Malaysia Perlis 2019
The Perlis Project is an ongoing project and the Trustees of AwF are pleased to be able to continue to support it. Donations have been sent from AwF to support the students that are attending the Aquaculture training at the University of Perlis so that the students are now able to travel and eat whilst attending the training in Aquaculture. We hope to be able to continue with this project for years to come and sincerely thank everyone that has sent in donations for their kind support. This is really helping the young people of Perlis to not only learn a trade but at the end of the project, Once the students have completed the course, and the fish have reached the correct weight, then the fish are given to the students to market.
PROJECT - Malaysia 2018
Training future 'Aquapreneurs' at the University of Malaysia Perlis, Malaysia
The Universiti Malaysia Perlis (UniMAP) has established an 'aquaculture incubator' using a simple recirculating aquaculture system (RAS) developed jointly with a private company. The incubator aims to train students to be aquaculture techno-entrepreneurs or 'Aquapreneurs' of the future.
It is also a platform for aquaculture technology related research and development, and for show-casing sustainable fish production using simple, affordable, user- and environmental-friendly, cost-effective systems.
The RAS has proven ideal for commercial rearing of Jade Perch (Scortum barcoo) and Tilapia (Oreochromis niloticus).
In January 2018, 14 UniMAP undergraduate students, whose parents are in B40 (that is, the bottom 40 percent of households) with monthly income of less than RM3900 per month - less than US$1000/month) were selected to participate in a Student Social Entrepreneurship Program. Their selection was based on certain criteria such as parents' or household income, family background, as well as their interest and determination to learn about entrepreneurship, aquaculture systems, fish production and willingness to devote their free time after class and during holidays to work at the on campus incubator fish farm.
Student trainees - in between their classes, lectures and laboratory activities - must spend over a period of six to seven months working and learning about the principles of RAS, design and assembly, its standard operating procedures (SOP) and basic fish biology, feed and nutrition, fish health, behaviour, fish husbandry, entrepreneurial skills and leadership skills.
"We are looking to raise 'pocket money' for these student so they can cover their food expenses while working through the initial first cycle until their first harvest is sold into the local market," says AwF UK CIO Chairman Cliff Spencer.
"This is a unique project that will help the next generation of farmers get a first foot on the ladder of becoming fully fledged aquaculturists with an ability to generate an income for their families while leaning about modern fish farming."
Over the production cycle the 'Aquapreneurs' engage in the following activities:
Rearing Jade Perch using the RAS

Assembly and commissioning of the RAS

Familiarisation and execution of the Standard Operating Procedure of the RAS

Day-to-day fish husbandry and farm management

Attracting prospective 'Aquapreneurs' among UniMAP students

Building self-confidence in setting up and running aquaculture related businesses
Anticipated net income from the sale of Jade Perch (total income less operational expenses such as costs of fry, feed, electricity, water and other consumables), partly becomes earning for trainees and partly as reserves for system maintenance, upgrading or acquisition of new system such as farm expansion.
Please support this project HERE or by clicking the special button below. Your donation will go directly to this project and you can follow the student's progress on this page as they work through the first cycle of Jade Perch production in an RAS.
"We welcome contributions, in cash or in kind, which are likely useful in offsetting the operational cost of fish rearing, or simultaneously as partial advance payment of their monthly allowance which they can use to buy decent meals or pay for other unexpected miscellaneous expenses," says Professor Ridzwan who is overseeing the project at the Universiti of Malaysia Perlis.
"The future of the aquaculture industry we desire must start by giving the right training to those who want to tackle sustainability issues, improve and strengthen weaknesses and gain recognition for achieving all the standards and quality demanded by modern society."
The proposed incubator programme is just a small step which UniMAP can contribute towards improving aquaculture and the quality of life of Malaysians as pledged in the TN50 (National Transformation 2050) and the United Nation Sustainable Development Goals agenda, he adds.
"The need for farmed fish and shellfish production in marine and freshwater environments has never been greater. The oceans will yield no more in wild capture yet global demand inexorably rises as population increases. At the same time the need for the best nutrition for children that fish affords has never been greater or better understood. AwF will work to establish sustainable aquaculture around the globe for the benefit of those most in need."
Clifford Spencer
Goodwill Ambassador to the African Union
New Partnership for Africa's Development
Farm Urban 2019
Two of the AwF Trustees travelled to an innovative organisation focusing on Aquaponics for young children. The team at Farm Urban in Liverpool have developed along with the University a small Aquaponics kit to encourage children about farming vegetables with fish. This project has been so successful in schools around the area that children have become increasingly involved with the project and the team are now developing distant learning for these children. AwF would like to extend this technology into disadvantaged countries as we believe that children are adults of the future and their capacity to learn is extremely high. Children in Africa not only need the protein from the fish, but they also need to learn how to farm the fish to live. If Children in their first 1000 days do not get the protein they badly need then they become stunted. Pregnant women often as young as 16 cannot get the protein that they need, so are unable to feed themselves, but also not able to nourish their unborn fetus. More to come on this project.
National Aquaculture Awards May 2019
The National Aquaculture Awards for 2019 was held at the Dynamic Earth Centre in Edinburgh Scotland on the 29th of May. Clifford Spencer (Chairman) and Professor Philip Leigh co presented on African Aquaculture and environment. The awards for achievements in Aquaculture were presented at a meal afterwards at the Dynamic Earth Centre.
Our chairman was asked to present at the very prestigious conference in Cape Town. The event was organised by the nutritionalist company Biomin and our thanks for a well organised event. The event was well attended and some of the world's most expert scientists and aquaculturists presented. AwF was proud to be involved in this conference.
The World Aquaculture Society
Montpellier August 2018
The World Aquaculture Society held an event on the 25th to the 29th of August in Montpellier in France. Five of the AwF Trustees attended and again a small stand was kindly donated by WAS to facilitate the charity. Our Patron and founding member Mr. Michael New OBE was also in attendance and was a facilitator at one of the opening workshops and presentations.
The World Aquaculture Society
Cape Town June 2017
The World Aquaculture Society held an event on the 27th and 30th of June at the prestigious International Convention Centre in Cape Town. Three of the Trustees of Aquaculture without Frontiers were in attendance at the event accompanied by AwF's founding member Mr. Michael New OBE. Chairman Clifford Spencer presented and a small stand donated by WAS was appreciated, and had many interested African aquaculturists. Our Chairman on behalf of AwF facilitated and negotiated for the Key Note speaker Dr Ibrahim Mayaki representing the organisation New Partnerships For African Development Agency (NEPAD) on the first day. AwF's chairman was also asked to take part in being a student poster judge. The event was a huge success with some 3,000 people gaining entry on the first day.
Philippines three-day Aquaculture conference
The deputy-Chairman of the Aquaculture without Frontiers (UK) CIO, Roger Gilbert, who is also the publisher of International Aquafeed magazine, was invited to provide a keynote address to the 2nd National Aquaculture Seminar 'Unity in Diversity' during the Philippines three-day Aquaculture conference between May 23-26, 2017 in Manila, Philippines.
"We had held a successful aquaculture conference for 550 delegates in Saigon, Vietnam in October 2016 and The Philippines wanted to emulate that in Manila this year. The local industry attracted over 700-attendees and it was an honour to be asked to make an opening address on trends in aquaculture and feed production," says Mr Gilbert.
"We know the world will add another billion people to its global population by 2030 and reach an expected 9.5 billion by 2050. Aquaculture will play an important part in meeting the nutritional needs of these new people to our planet over the coming years and particularly in transitional countries such as The Philippines."
He not only outlined the current world aquaculture situation and some key trends in equipment and technology, he focused on the need to alert governments and consumers alike about the need for a greater attention to be paid to the production of scientifically-formulated compound feed.
"we have 7.3 billion people on our planet today and we produce just over one billion tonnes of compound feeding stuffs, including 40 million tonnes of aqua feeds.
"I calculate that every country needs to be producing a minimum of 133.6kg of scientifically-formulated compound feed per capita to move out of food insecurity. Compounded feed, with its inclusion of a whole host of very specific ingredients, will lead us to greater food production - particularly protein - that is safer and more affordable than in the past. It will also make our industries more efficient, sustainable and environmentally-friendly. And aquaculture should be at the very heart of that trend."
Mr Gilbert says the established aquaculture industry has an obligation to support their counterparts, namely fish farmers, in transitional countries in overcoming barriers to growth. Ensuring the highest quality feeding stuffs are available is a prerequisite to that production.
"That is why the magazine International Aquafeed supported the setting up of the UK charity in order to gather in contributions and donations to assist farmers in need both in Asia and Africa."
Our Office
7, St Georges Terrace
St. James' Square
Cheltenham
GL50 3PT
United Kingdom.